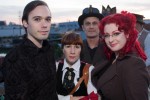 I'll start by defining my terms here.
Steampunk is An imaginary Victorian age, that features brass and copper clockwork and steampowered inventions that go far beyond 1800's technology. Steam powered mechanical wonders, optimistic gear driven computers, dirigibles, clockwork firsts, and stuff like that. (But don't forget the goggles.)
The above definition taken from here. I went first to Wikipedia, but I thought their summary was not nearly as clear.
I got this invitation for a Steampunk party the other day:
* The Traveling Academy of Unnatural Sciences invites all fellow intrepid explorers and adventurers to a get together on the Neverwas Haul at its winter dock – 1010 Murray Street, Berkeley, CA on Saturday night from 6pm to 9pm to hobnob and converse with fellow enthusiasts. There will be demonstrations of things too dangerous for the hotel lobby, an opportunity to dress in costume and enjoy the ambiance of the Haul, and partake of libations and h'ors doevres. For more information, check out our link at www.neverwashaul.com
So, of course I went, camera in hand.
I'll let the photos speak for themselves.

All photos © Alex Schoenfeldt 2010
All rights reserved.
For prints Call (888) 316-2539
San Francisco Photographer
UPDATE:
I just got this email from one of the people in these photos:
Dear Alex,
I just have to tell you how beautiful your work is. The shots of
Neverwas are incredible, and in all your work, the people look so
radiant. Your eye for light and shape is such a pleasure.
Thank you for capturing the weekend.
All the best, all the time,
Lorna
(Accordionist, #8122, wife of Robért , as seen together in
#8062)
Bear Paw Fiddles
www.bearpawfiddles.com
Fine Vintage Stringed Instruments